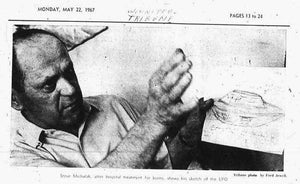 Falcon Lake Incident
This story is from 1967, but still resonates as one of Canada's most documented UFO incidents.
My first encounter with this story was as a young child, from a book my parents bought for me from Scholastic Canada about UFO's. I still vividly recall the picture that showed the severe burns Stefan Michalak received from his encounter with a craft that he witnessed landing nearby.
Whether it's your first time hearing about this story, or recapturing details you may have forgotton, be sure to click the link below to Darren Bernhardt's article for CBC. 
Link to Article by Darren Bernhardt · CBC News ·  CBC
---