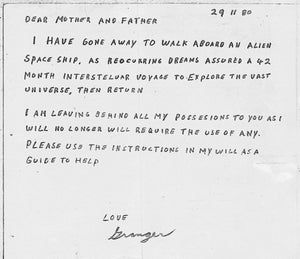 Granger Taylor Story
One of my goals is to provide links to fringe articles or fascinating obscure documentaries that didn't receive much mainstream attention, primarily because the subject matter is to esoteric.
This documentary is presented without the common ridicule or bias that often comes with U.F.O. related subject matter, and thus has a charm and depth that makes it resonate for days after viewing.
Granger Taylor was a master mechanic who built a spaceship. One rainy day in November, he left a note for his family and then mysteriously vanished off the face of the earth. Spaceman explores what happened to Taylor and why.
The story of Taylor and his disappearance is one of Canada's strangest and most enduring mysteries. On November 29th, 1980, the 32-year-old's family found a note from Taylor telling them he was about to embark on a most unconventional journey: a 42-month odyssey "aboard an alien spaceship."
Episode available within Canada only.
---